Woof!
---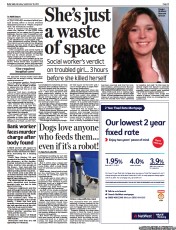 Dogs love anyone who feeds them... even if it's a robot!

Daily Mail
Sep 16 2013
LOYALLY standing by our side through life's ups and downs, the dog is cherished as man's best friend. But it seems that a dog's love for humans might be slightly more fickle, after a study found that the animals can learn to love robots. After simply......
read more...
---
PressDisplay.com - an online source of publications from around the world. The PressDisplay Service contains copyrighted material, trade marks and other proprietary information.
PressDisplay – Redefining the Reading Experience.
PressDisplay is a service by NewspaperDirect, Inc.
NewspaperDirect, Inc., 200-13111 Vanier Place, Richmond BC V6V 2J1, Canada
©2003-2013 NewspaperDirect, Inc. All rights reserved. Terms of Use | Privacy Policy