Interesting on commuting
statistics
.
---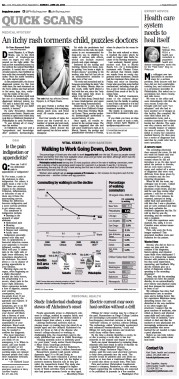 Walking to Work Going Down, Down, Down

The Philadelphia Inquirer
Jun 29 2014

The percentage of Americans who walk to work dropped by half over the last 30 years as people moved farther and farther from the most walkable urban areas and got fatter and fatter, although which was the chicken and which the egg is a tough......
read more...
The PressReader Service contains copyrighted material, trade marks and other proprietary information. Receipt of this email should not be interpreted as grant of any licences express or implied, to the intellectual property of PressReader, NewspaperDirect Inc. or publishers of publications presented.
PressReader – Connecting People Through News.
NewspaperDirect Inc. dba PressReader, 200-13111 Vanier Place, Richmond BC V6V 2J1, Canada

©2003-2014 PressReader, All rights reserved. Terms of Use | Privacy Policy