Now they can swarm _and_ herd.
Page27
---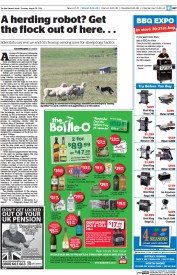 A herding robot? Get the flock out of here. . .

The New Zealand Herald
Aug 28 2014

Anyone who has seen a sheepdog round up a flock will have been impressed by the skill and ingenuity of the border collie. Now scientists have said that the dogs' technique could be mimicked by robots for uses far beyond the farmer's field — from moving......
read more...
---
PressReader.com - an online source of publications from around the world. The PressReader Service contains copyrighted material, trade marks and other proprietary information. Access to this blog should not be interpreted as grant of any licences express or implied, to the intellectual property of PressReader, NewspaperDirect Inc. or publishers of publications presented.
PressReader – Connecting People Through News.
NewspaperDirect Inc. dba PressReader, 200-13111 Vanier Place, Richmond BC V6V 2J1, Canada

©2003-2014 PressReader, All rights reserved. Terms of Use | Privacy Policy