It's a conundrum: We can promote public health through bike sharing programs, but must we compromise safety to do so?
Front page (A1)
---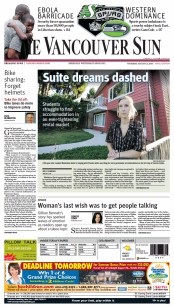 Bike sharing: Forget helmets

The Vancouver Sun
Aug 21 2014
Second of two parts Go to New York City and you'll see the inconceivable: Thousands of people riding bikes in the thickest of traffic, without helmets. In the Land Of The Free, they have the right to bare heads. But then, you can see the same thing......
read more...
---
PressReader.com - an online source of publications from around the world. The PressReader Service contains copyrighted material, trade marks and other proprietary information. Access to this blog should not be interpreted as grant of any licences express or implied, to the intellectual property of PressReader, NewspaperDirect Inc. or publishers of publications presented.
PressReader – Connecting People Through News.
NewspaperDirect Inc. dba PressReader, 200-13111 Vanier Place, Richmond BC V6V 2J1, Canada
©2003-2014 PressReader, All rights reserved. Terms of Use | Privacy Policy