Page31. Oi! Thank goodness only researchers can do it.
---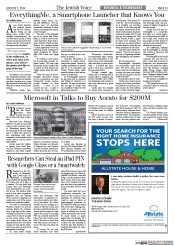 Researchers Can Steal an iPad PIN with Google Glass or a Smartwatch

The Jewish Voice
Aug 1 2014
Researchers at the University of Massachusetts Lowell have developed a technique for surreptitiously stealing iPad PIN codes, and all it takes is a camera. The one built into Google Glass and Samsung's Gear Smartwatches are a perfect fit too. The......
read more...
---
PressReader.com - an online source of publications from around the world. The PressReader Service contains copyrighted material, trade marks and other proprietary information. Access to this blog should not be interpreted as grant of any licences express or implied, to the intellectual property of PressReader, NewspaperDirect Inc. or publishers of publications presented.
PressReader – Connecting People Through News.
NewspaperDirect Inc. dba PressReader, 200-13111 Vanier Place, Richmond BC V6V 2J1, Canada
©2003-2014 PressReader, All rights reserved.
Terms of Use
|
Privacy Policy